Established Patients Only
Not Accepting New Patients
Use the link below to schedule an appointment.
If this is your first time using the AthenaHealth portal, click "Sign Up" in blue at the bottom of the portal homepage to set your password and activate your account.
***Each family member age 13 and up must have their own portal account with a unique email addressand schedule under their own name. Once in the account, use the menu at the top right of the screen to give family member access to a parent, if desired.***
Same day openings will appear until 3:30pm if available.
Annual wellness exams and New Patient appointments must be completed in person. Certain types of follow up visits and urgent care may be accomplished via virtual visit.
Please choose the correct appointment type from the drop down menu to view availability.
*Choose "Secure online video visit" if you would like telemedicine. This selection will create your link to the virtual office.
* Select Behavioral Health if you are following up regarding anxiety or depression.
*Choose "injury" if this visit is for treatment due to Motor Vehicle Accident. Note: Dr Gutierrez does not handle Worker's Comp claims. Please check with your HR department for your employer's preferred providers.
*If you choose "other" from the drop down menu, you send a message requesting an appointment and this will delay scheduling. Please select "follow up" if you are unsure of your appointment type.
Once you have scheduled your first appointment in AthenaHealth, please sign three forms to enable important features for the doctor before your visit.
Go to My Health in the left menu. Select Medical Forms across the top. Complete
1) Financial Policy
2) Privacy Practices
3) Authorization for Medication History
Thank you!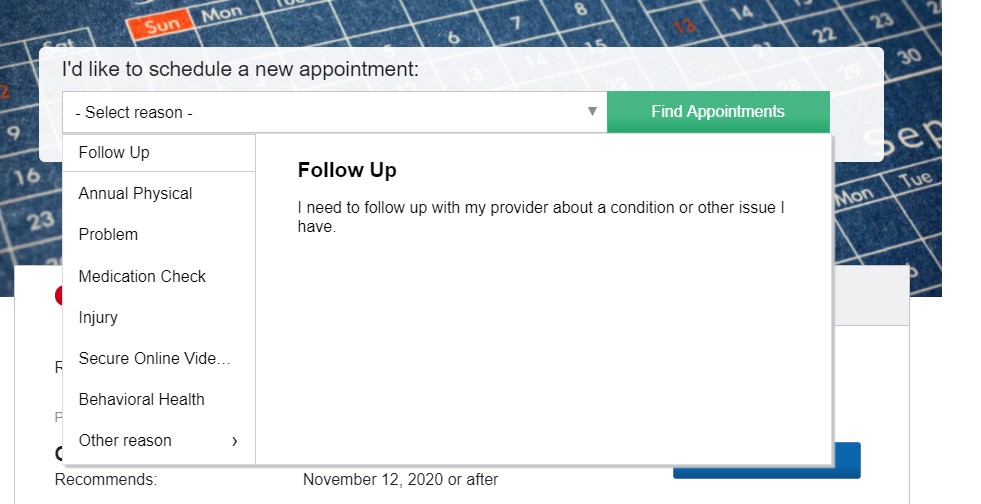 A note to our non-binary patients: We have contacted our vendor about the restrictive

M/F gender selection when signing up for the Patient Portal. The issue is under review

and complicated by the fact that all 50 states do not recognize non-binary options, yet

insurance billing happens across states. Be assured that the Medical History

Questionnaire which populates for New Patient and Annual Well check appointments

provides non-binary options that become part of your medical record.