Dr. Gutierrez completed training at the renowned Mayo Clinic for 3 years after completing active duty in the United States Navy during the Iraq War. As a Family Medicine Resident at Mayo Clinic Florida, he presented original research on exceptional longevity and nutrition internationally. The Florida Academy of Family Physicians awarded him its Distinguished Scholar Award in 2009.
From a blue collar, immigrant background, he is the first in his family to attend college and truly enjoys connecting with people from all walks of life.
His undergraduate degree in 1999, is Magna Cum Laude with a double major in Philosophy and Biology from Florida International University. During his college years, discipline and love of philosophy led him to study Egyptian yoga with Dr. Muata Ashby of the SEMA Institute and advanced Integral yoga at the Yoga Research Foundation.
Dr. Gutierrez graduated from the Philadelphia College of Osteopathic Medicine in 2003 with honors. While studying osteopathic medicine, he instructed a weekly yoga class for students, faculty, and staff. He served in the US Navy from 2000 until 2012.
Dr. Gutierrez is the President of the Osteopathic Physicians and Surgeons of Oregon. Dr. Gutierrez is the Regional Assistant Dean for PNWU. He is passionate about teaching and is a Clinical Assistant Professor of Family Medicine at Western University and Pacific Northwest University of Health Sciences. Orestes shares a holistic lifestyle with his wife and their three children. His healthy habits include a plant based diet, daily meditation and yoga, and participating in the spiritual community of Unity of the Valley.
He is a competitive runner and All American track athlete.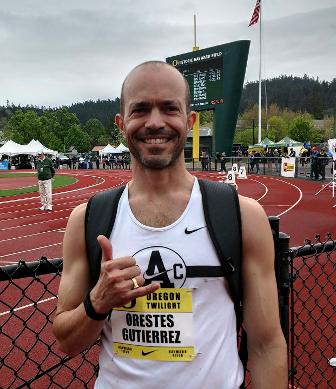 Dr. Gutierrez finished 1st place overall in the Oregon Twilight Masters Mile in May 2017 in a time of 4:42. In June 2017 Dr. Gutierrez finished 1st place overall in the Masters Mile at the Portland Track Festival in a time of 4:38.